Frequently Asked Questions
What are the Harvest Seasons?
---
Estimated Seasons: Loquats ......................... March - April Blackberries .................. April - May Blueberries .................... April - May Figs ............................... June - August Jujubes ......................... June - August Peach ........................... June - August Asian Pears ................... June - August Asian Persimmon .......... September - November Citrus ............................ September - December We have buckets, wagons, shears, and long reach pruners available ffor use
---
What should you bring?
---
We have pickers, shears, wagons, bags and buckets, so you'll need:
Hat or Umbrella
Outdoor clothing
Enclosed walking shoes
Sunscreen and bug spray
A friendly smile! :-)
---
What else is nearby?
---
Other farms: Victoria's Natural Market 713.815.8513 20158 Bauer Hockley www.victoriasnaturalmarket.com Aitken Farm 832.422.5164 20000 Bauer Hockley www.aitkenfarmandranch.com Hira Halal Meats 281.650.8623 19922 Bauer Hockley www.facebook.com/HiraHalalMeats Restaurants: Frio Grill (a local favorite!) 281.256.3746 16410 Mueschke www.friogrill.com Murdoch's Backyard Pub (voted Top 50 in Houston) 281.516.9753 18541 Mueschke www.murdochsbackyard.com Texas Mesquite Grill 832.334.5594 27104 Northwest Frwy www.texasmesquitegrill.com
---
Would you like to see a map?
---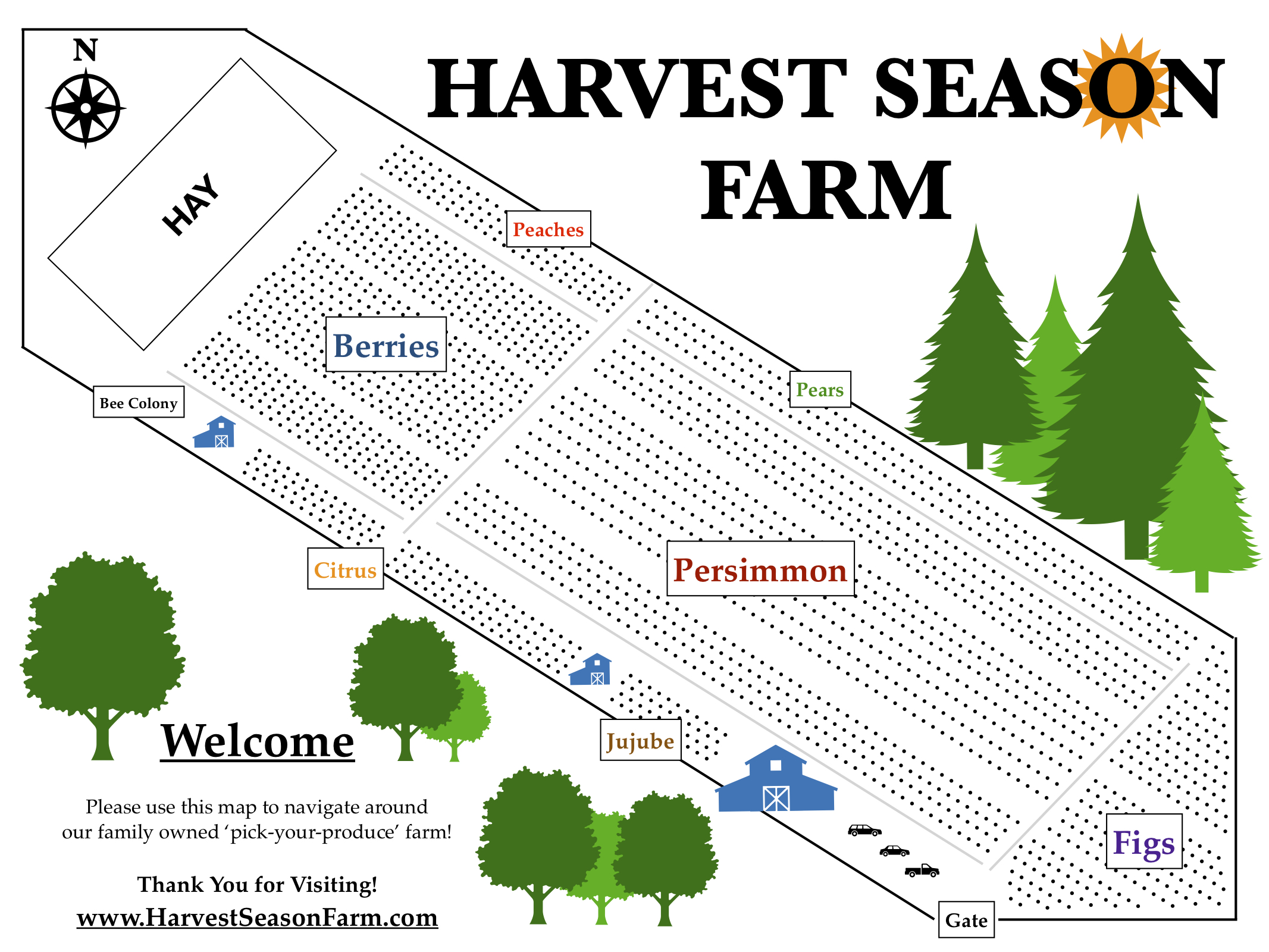 Not all crops are currently listed on the map, but we'll point you in the right direction when you get here! Please 'right click' and open in a new tab or brower window to see a larger version
---
Need more details?
---
Honey We have an onsite bee colony and sell honey when available Asian Persimmon We have 5 varieties 3 are nonastringent - Fuyu, Jiro and Matsumato and 2 are astringent - Hachiya and Saijo Fuyu is four sided with a fairly tough skin and yellow/orange to deep red Hachiya is larger with an oblong-conical shape and orange skin Saijo is smaller, egg shaped and considered the best astringent Asian Pear Asian Pears combine the flavor and sweetness of pears with the bite of a crisp apple We have 3 varieties - 20th Century, Hosui and Shinko All 3 are predominantly round in shape 20th Century are yellowish/green to dark yellow Housi have a dark yellow skin Shinko have a golden brown skin Blackberries We grow 6 varieties Apache, Brazos, Chickisaw, Kiowa, Ouachita and Rosboyough Apache and Quachita are thornless and all varieties are erect Blueberries Citrus - We have a variety of citrus Including hybrid lemon-limes Jujube Watermelon We're experimenting with a watermelon patch and have personal sized and full sized seedless melons perfect for a hot summer day!
---
When are we open?
---
Saturdays from 8AM to 1PM* *Hours vary with crop availability
---
---