Frequently Asked Questions
What are the Harvest Seasons?
---
Estimated Seasons: Loquats ......................... March - April Blackberries .................. March - May Blueberries .................... March - May Figs ............................... June - August Jujubes ......................... June - August Peach ........................... June - August Asian Pears ................... June - August Asian Persimmon .......... September - October Citrus ............................ October - December We have buckets, wagons, shears, and long reach pruners available
---
What should you bring?
---
We have pickers, shears, wagons, bags and buckets, so you'll need:
Hat or Umbrella
Outdoor clothing
Enclosed walking shoes
Sunscreen and bug spray
A friendly smile! :-)
---
What else is nearby?
---
Other farms: Victoria's Natural Market 713.815.8513 20158 Bauer Hockley www.victoriasnaturalmarket.com Aitken Farm 832.422.5164 20000 Bauer Hockley www.aitkenfarmandranch.com Hira Halal Meats 281.650.8623 19922 Bauer Hockley www.facebook.com/HiraHalalMeats Restaurants: Frio Grill (a local favorite!) 281.256.3746 16410 Mueschke www.friogrill.com Murdoch's Backyard Pub (voted Top 50 in Houston) 281.516.9753 18541 Mueschke www.murdochsbackyard.com Texas Mesquite Grill 832.334.5594 27104 Northwest Frwy www.texasmesquitegrill.com
---
Would you like to see a map?
---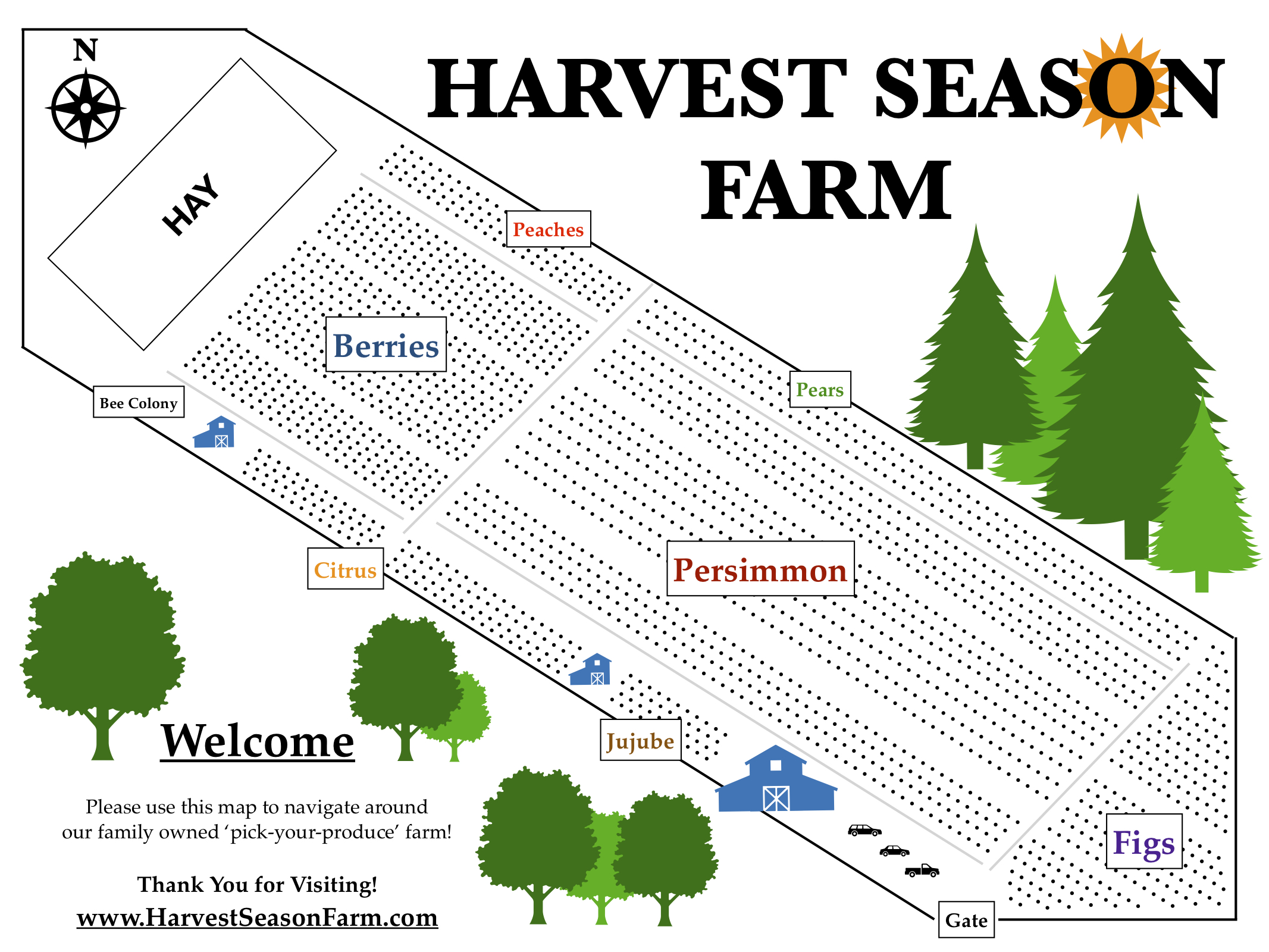 Not all crops are currently listed on the map, but we'll point you in the right direction when you get here! Please 'right click' and open in a new tab or brower window to see a larger version
---
Need more details?
---
Honey We have an onsite bee colony and sell honey when available Asian Persimmon We have 5 varieties 3 are nonastringent - Fuyu, Jiro and Matsumato and 2 are astringent - Hachiya and Saijo Fuyu is four sided with a fairly tough skin and yellow/orange to deep red Hachiya is larger with an oblong-conical shape and orange skin Saijo is smaller, egg shaped and considered the best astringent Asian Pear Asian Pears combine the flavor and sweetness of pears with the bite of a crisp apple We have 3 varieties - 20th Century, Hosui and Shinko All 3 are predominantly round in shape 20th Century are yellowish/green to dark yellow Housi have a dark yellow skin Shinko have a golden brown skin Blackberries We grow 6 varieties Apache, Brazos, Chickisaw, Kiowa, Ouachita and Rosboyough Apache and Quachita are thornless and all varieties are erect Blueberries Citrus Satsuma Mandarins Tangerines Loquats Kumquats Figs Banana Celeste LSU Purple Texas Everbearing Brown Turkey Jujube Li (most popular) is a larger round variety with the texture and bite similar to an apple Lang is an elongated variety Watermelon We're experimenting with a watermelon patch and have personal sized seedless melons perfect for a hot summer day!
---
When are we open?
---
Saturdays from 8AM to 1PM* *Hours vary with crop availability
---
---